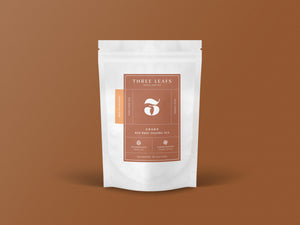 Tea Master: Yi-Xiang Kuo
Red Ruby Oolong Tea Bags
Sale price Price $15.00 Regular price Unit price / per
Cultivated in the highlands of central Taiwan at over 1,400 metres above sea level, this delightful oolong is heavily oxidised and slow-roasted for a full, rich flavor reminiscent of black teas. Its brew yields an attractive ruby-red color: hence its name. This tea is handrolled to preserve the integrity of the leaf and to lock in freshness. Try it iced, and even with milk if you like!
Our fully-biodegradable teabags make enjoying our whole leaf tea more convenient for those on the go!
APPEARANCE

SHAPE: Ball
DRY LEAF COLOR: Dark Brown
TEA LIQUOR COLOR: Deep Golden

TASTING NOTE
AROMA: Ripe fruit
PALATE: Full bodied sweetness
AFTERTASTE: Smoky and fruity

TEA ESTATE REGION
ORGIN: Luye, TaiTung
OXIDATION: High - 80% 
CULTIVAR: Jin Xuan
INGREDIENTS
100% Whole leaf tea
PACKAGING
OUTER: 100% recycled paper with award winning design
INNER: Biodegradable, corn starch-mesh tea bag, large enough to allow the whole leaves to expand and release their full flavor. 
HOW TO ENJOY
1 teabag hot; 2 teabags ice 
82°C/180°F
1 cup/8oz
 1 min