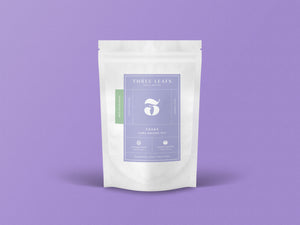 Tea Master: Qiong-Man Zhang
GABA Decaf Oolong Tea Bags
Sale price Price $15.00 Regular price Unit price / per
GABA tea was discovered when a Japanese scientist in the 80s developed an innovative method of fermenting tea in the absence of oxygen. The unexpected result was that the tea leaves accumulated significant amounts of GABA (Gamma-Aminobutyric Acid), an amino acid naturally produced in the brain that suppresses neural activity and creates a calming effect on the body. Studies suggest the potential for GABA to reduce blood pressure and enhance immune function when taken orally. Settle down to a cup of this decaf tea before bed for a blissful night's sleep.
Our fully-biodegradable teabags make enjoying our whole leaf tea more convenient for those on the go!
APPEARANCE

SHAPE: Ball
DRY LEAF COLOR: Dark Brown
TEA LIQUOR COLOR: Orange

TASTING NOTE
AROMA: Fruity
PALATE: Smooth 
AFTERTASTE: Floral

TEA ESTATE REGION
ORIGIN: Zhushan, Nantou
OXIDATION: Rich - 80% 
CULTIVAR: Jin Xuan
INGREDIENTS
100% Whole Leaf Tea
PACKAGING
OUTER: 100% recycled paper with award winning design
INNER: Biodegradable, corn starch-mesh tea bag, large enough to allow the whole leaf tea to expand to release its full flavor. 
HOW TO ENJOY
1 teabag hot; 2 teabags ice 
82°C/180°F
2 cup/16oz
 1 min